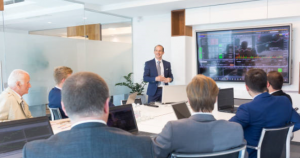 The following business coaching and training courses are available to you with the main aim of equipping your team to provide skills and confidence in helping your company grow. This list represents the major subject areas that are most called upon for us to present. These modules may be further personalised when requested by clients who require a tailored program specific to the organisation.
We teach on a one-to-one basis, right through to running corporate training workshops for the major blue chip companies. We mainly provide business coaching and training courses for start-ups, SME's and corporate clients.
Which courses may interest you?
Here you can find which business coaching and training courses are of interest to you. All of the following titles are possible options once we have reviewed your requirements and determined the best outcomes that will best suit your needs. Programmes are mainly delivered over a two to five day class, but we can make these flexible to you.
98 Business Course Topics
Leadership Skills for Managers
Time and Task Management
Building a Successful Team
Achieving Excellent Customer Service
Stress Awareness and Managing Your Stress
Handling People and Difficult Situations
Fundamentals of Problem Solving and Decision Making
Preparing and Giving Presentations
Train the Trainer
Master Negotiating skills
Managing Corporate Change Effectively
Fundamentals of Sales and Marketing
Project Management Techniques
The Indispensable Administrative Assistant
Leadership Skills
Building Your Personal Reputation as a Leader
Building Trust in the Workplace
Coaching for Success
Four Keys to Advanced Leadership & Motivation
Fundamentals of Strategic Business Planning – How to Grow a Business
How to Effectively Manage Multiple Locations
How to Excel at Managing & Supervising People
How to Really Excel at Leadership – What the World's Greatest Managers do Differently
Leadership from Within
Leadership in Turbulent Times
Motivation and Staying Positive
Motivating Employees to Achieve More
The Effective Leader
Achieving Results through Effective Delegation
Achieving the Work/Life Balance
Effective Meeting Management
Getting It All Done – Handling Projects, Objectives and Deadlines
How To Make Meetings Work For You
Becoming a Highly Successful Team Leader
Coaching & Leadership Skills
Remote and Virtual Team Management
Supervisory Skills and High Impact Communication
Achieving Excellent Customer Service
Seven Stages of Achieving Excellent Customer Service
Stress Awareness
Understanding and Managing Stress
Managing Emotions and Thriving Under Pressure
Handling People with Tact & Skill
How to Deal With Difficult, Diverse and Different People
Appraisal and Performance Management Training
Competency-Based Recruitment And Interviewing Skills
Managing & Eliminating Unacceptable Behaviour & Other Performance Barriers
Stimulating a Positive Attitude
Problem Solving & Decision Making – Tools and Techniques
Problem Solving, the Way of Life
Preparing and Delivering Presentations with Confidence, Clarity & Conviction
Personal Communication Skills
Assertiveness, Self Esteem and Self-Confidence Development
Business Writing Basics for Professionals
Business Writing for Results
Dealing Effectively with Negative Attitudes
Dealing with Unacceptable Employee Behaviour
High Impact Communication Skills
How to Develop an Effective Telephone Manner
How to Write Persuasively and Effectively in Business
Interpersonal Skills & Effective Communication
Powerful Influencing And Persuasion Skills
How to be an Effective & Dynamic Trainer
Fundamentals of Negotiation
Riding the Wave of Change
The Echo of Your Life
An Introduction to Marketing
Improving Sales Performance
Sales, Negotiating Skills & Ensuring Customer Delight – The Triple Threat Capability
Personal Networking for Success
How to Cultivate and Grow a Business Network of Contacts
Project Management Techniques
Fundamentals of Successful Project Management
The Indispensable Administrative Assistant
Becoming a Highly Successful Team Leader
Dealing with Negative Attitudes and Unacceptable Employee Behaviour
Four Keys to Leadership & Motivation
Fundamentals of Negotiation
Fundamentals of Problem Solving & Decision Making
Fundamentals of Successful Project Management
Fundamentals of Team building Through Leadership, Coaching & Motivation (2 days)
Getting It All Done – Time Management, Handling Projects, Objectives and Deadlines
How to Excel at Managing & Supervising People
How to Handle Conflict With People and Difficult Situations
Managing & Eliminating Unacceptable Behaviour & Other Employee Performance Barriers
Motivating Employees To Achieve More
Supervising With Success
The Essentials of Communicating With Diplomacy and Professionalism
The Management of Corporate Change
The Rewards and Responsibilities of Personal Accountability
Understanding & Managing Stress
Four keys to leadership & management
How to excel at managing and supervising people
Top tips for successful leadership 42 classes
Customer Service 27 classes
Time & Task Management
Getting it all done
Handling projects, objectives and deadlines 23 classes
We look forward to hearing from you. Please let us know the courses you are interested in booking below:

Free Training Discussion | Needs Analysis | Coaching Experts On Hand