Social Media Wins Top Priority for SME Spend in 2019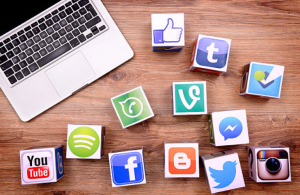 Research into the 2019 marketing plans of small to medium sized businesses has revealed that the majority plan to spend more on their marketing activity than they have done in 2018; with the top areas of focus set to be social media, search engine optimisation (SEO) and paid search.
Research Carried Out
According to the study of more than 500 businesses, more than two fifths of SMEs confess to 'struggling' with their marketing efforts; with many saying that they will be making that kind of activity more of a priority in 2019.
The research was conducted by www.1stchoicemarketing.co.uk, in a bid to find out more about the marketing priorities of businesses next year. In order to be eligible for the survey, respondents had to have some sway in the marketing decisions of the business they worked within, or managed.
When asked if they planned to increase their marketing activity in 2019 (compared to this year), making it more of a priority, 72% said 'yes'; with 89% of the total respondents also saying they would spend more next year on marketing activity.
Relevant respondents were asked how much they planned to increase their marketing spend by in 2019, if they knew, revealing an average intended increase of 52%. Reflecting on their marketing activity of 2018 so far, 43% confessed to 'struggling' with it and, when asked why, 31% put it down to 'not spending enough' and 22% felt it was due to being 'unsure' of what they were doing.
This year, 54% of the businesses polled said that they outsource at least some aspects of their marketing activity (either to agencies, consultants or freelancers); whilst 43% said that they handled the activity in-house. 3% said they did 'little to no marketing activity'. However, 77% said that next year (in 2019) they planned to outsource 'the majority' of their activity.
Delivered Results
When the results survey was conducted, business owners were asked what their top marketing priorities would be in 2019, the following were revealed to be the top answers:
Social media – 39%
SEO – 35%
Paid search – 27%
Email marketing – 25%
Public relations – 19%
Narrowly missing out on the top 10 was 'influencer marketing' (18%).
Matt Bott, founder of 1st Choice Marketing, said the following about the findings:
"Marketing is such an important part of the strategy plan for business growth and something that all brands, no matter how large or small, need to always be thinking about. To see that people intend to invest more heavily in marketing in 2019 and to discover that social media and SEO will be the top two priorities is really interesting; social platforms such as Facebook and Instagram provide such an opportunity for businesses to reach out to their target audience and, in this digital age, getting your SEO right makes you more visible and is key to increasing traffic to your website."
1st Choice Marketing help manage business social media accounts with their own copy writing, design and video content teams.
Get your free Social Media quote here

Free Chat | Social Media Marketing Experts | Pro-active Management

Helpful Links