7 tips to keep your business laser focused
Whether you're still in the planning stages of a start up, a small business looking for ways to expand, or an established company in your marketplace, growing a business can still be challenging.
It requires hard work, patience and perseverance. In this article we're going to examine seven guidelines or tips to keeping your business focused on the important things.
You should always keep these in mind when you want to grow your business. Reviewing these simple tenets will be a sure way to put you on the right path for growth and success.
1. Define Your Goals
Put simply, you need to know where you're going in order to get there. Setting out with a vague notion of what you want to achieve or, worse, no plan at all, will set you up for failure. As the old adage goes, "fail to plan, plan to fail." This step is important as, once you've worked out what it is you want to achieve, it's going to be much easier to work out how you are going to get there.
Carrying out a simple 'SWOT' anaylsis every 6 months will keep your eye on the ever changing markets around you.
Set out the larger goals first and outline a strategic approach to achieving these. The larger goals can then be broken down into sub-goals. Are there any tactics that you can employ to help with these smaller short-term goals? The accumulation of small advantages and achievements, can provide invaluable momentum for growing your business and steering you in the right direction.
2. Understand Your Customer
This is crucial. Without customers, your business is doomed. Seems obvious, but you'd be surprised how many small companies neglect to listen to, understand, and empathise with their customers.
Once you understand the problems that your customer is facing, you can set to work on serving them with the best solution, ensuring that their needs are met the very best you can.
This, in turn, means that they will become repeat customers, and will also recommend you to others. SEE also our blog post on 7 excellent steps to win new clients.
Reach out to your customer and ask them for feedback, run surveys, speak to them.
Are they happy with the level of service you are providing? Are there any ways you can make further improvements?
Understanding your business from the customer's perspective is a key exercise. In fact, we can't overstate how important, useful and insightful this step is.
3. Assess Key Strengths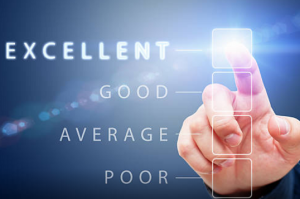 What are your unique selling points? What is it that you can offer better than anyone else in your field? Sitting down and taking the time to really assess your key strengths can be a very positive process.
Once you've figured out what your key strengths are, you can double down – focus and improve on these areas even more so that you stand out far ahead of competitors.
What are you bringing to the table that no-one else is? Comprehending and appreciating your key strengths will help you to communicate what they are to the world – both existing customers and prospective ones.
Modesty has its place – sometimes you really need to boast about what you can offer to win new customers and grow your business!
4. Focus on One Area and Do it Well
This leads on from point number three above. There's no point whatsoever in spreading yourself thin. Whilst it can be tempting to expand out into different areas, it can be risky when you are still growing your company.
Instead, we'd recommend that you carve out a niche and build a reputation for exceeding expectations in this particular area. Once you've perfected whatever it is you do and your business has grown to a comfortable level, only then should you consider branching out.
It's all well and good trying to optimise profits by offering as many different products and services as you can, but expanding into different areas too quickly can be challenging, risky and stressful.
The bottom line is this – don't over complicate things whilst you are still in the stage of growing your business.
5. Know Your Market
Research is a key component in the success of any business, big or small. And when it comes to growing a business, research is vital. As well as knowing who your customers are and what their needs are, you should be taking a close look at your competitors. What exactly are they doing to meet the needs of customers in your market?
You can learn a lot by taking the time to carefully study your competitors approach to business.
What are they doing that works? Are there any ideas you could improve upon? Taking the time and patience to conduct thorough research is certain to be rewarded with insightful data which you can apply to your own business to help it grow.
6. Define How You Make Money
You should have a carefully articulated sales process in place which should be continually studied and tested to ensure it is optimised to maximise profit. How do you drive traffic? How do you generate leads? What are your conversion rates and how can these be improved upon?
These are all questions that you should be asking yourself as you strive to grow your business. You should be thinking about the customer journey and how it can be enhanced and built upon to help deliver maximum profit.
This ties in with step one regarding defining your goals – if your sales process isn't clearly defined it's almost certain that profit optimising opportunities are being missed.
7. Look After Your Staff
With all the stress and commotion that can sometimes come with growing a small business, this one is very important and can also be easy to forget.
We've stated earlier in the article that, without customers, you don't have a business. This is equally true of your staff – they are integral to the continued success and growth of your company. With this in mind, it is important that you treat them fairly and respectfully.
Nurture your staff and help them to train, develop and grow – your business will inevitably grow and develop as they do. Creating a positive, forward-thinking, fun and lively work environment will bring out the best in your staff. Listen to their feedback and ideas – this is an invaluable way to help you with every staff challenge that may come your way!
If you're looking to grow your business online, then please request a free quote today here, or call us on 01702 742 077.