We can introduce you to the world of artificial intelligence technology for your social media campaigns. This will provide very powerful volumes of sales leads with the objective of lowering your CPL (cost per lead).
With our wealth of social media marketing experience, we know what campaigns will work best for you. Working in collaboration together, we will design 4-5 creatives which include variations of images and text that the technology adjusts to suit the right audience.
We use the social media platforms of Facebook, Instagram and LinkedIn with targeted artificial intelligence technology that will learn and improve your campaign to get maximum cost-effective leads. We charge a one off set up fee for this service.
Get your free Social Media quote here

Free Chat | Social Media Marketing Experts | Pro-active Management
Ongoing Social Media Management
Are you tired of spending endless amounts on social media advertising, with very little return? Our experts will be able to help you manage your social media on an ongoing basis, so please contact us today for a chat.
Social Media Marketing Benefits
See a a quick list of social media marketing benefits for weekly posts about your business. We also discuss these in more depth further on.
Ad-hoc campaigns
Special stories
Competitions
Testimonials and good news stories
Promotional ideas
Grow your fan bases
Surveys
Engage your customers
The list goes on…
How can Social Media help you
1st Choice Marketing are here to help you to effectively manage your weekly social media marketing to get dynamic results and provide clear reporting. We've also uploaded a social media marketing video to see why social networks should form a vital part of your marketing strategy.
Social media has fast becoming an important platform for digital marketing, which gives your business the fantastic opportunity to reach literally millions of potential customers across the globe.
For an example, did you know 79% of adults use Facebook in the UK. So, if you're business is not set up for this massively profitable source, you're really missing out on this key growth opportunity.
SEO and Social Media Marketing makes it easier to build your brand and spread the word about your products, services and vision. As a social media agency we are experts in social media management services to help promote your business.
There are various social media platforms that you need to be set up on. These would include business pages on Facebook, Twitter, Google +, Linked In, Pinterest, YouTube, Instagram etc.
It's really important to future proof your business by having a presence on as many social media networks as possible, and identifying which are most relevant to your target customers.
As we know in this day and age most people stare at their mobile devices, and many are on social media, so building your brand and engaging your target audiences is critical to the future growth of your business.
Advertising on Facebook can be complex and time-consuming – we use our expertise to deliver results and save you the hassle.
Your campaign will be designed by our Digital Specialist to target your ideal customers, in the right locations, to get the best return on your investment.
Once live, in addition to regular performance reviews, your dedicated Customer Relationship Manager will proactively refine your campaign, they will happily adjust your targeting, or refresh the ad creative as needed so your campaign continues to perform at peak levels.
With 1st Choice Marketing you'll get the strong social media presence that you need to reach potential customers.
Whether you're looking to raise awareness, drive Website visits, or generate leads, there's a Social campaign to meet your needs.
More benefits for Social Media Marketing
Increased Brand Awareness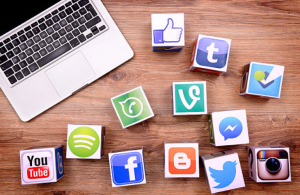 Your goal should be to increase your visibility wherever possible across as many digital marketing platforms as relevant and possible. The first step, is to create your business profile pages and complete your address info, contact details, who you are, what you're about, and then list all your products and services that you provide. This in turn as you start to boost activity will increase your company awareness and heighten the user experience. With regular postings and engagements you can widen your target audience in no time.
Not That Expensive
Setting up your business pages is free across most networks and posting engaging content is free as well. This means you get a better return on investment when setting off with your social media marketing strategy. The main cost to any business owner is time. Have you got the time to manage your profile pages? Some networks like Facebook have really changed the way they monetise their adverts now, but the costs of targeting demographic and geographic audiences isn't really a great deal.
Engage Your Customers
Social media marketing is a great way to speak to your customers, letting others see that you care about them. Customers will happily give their opinions and comments on the posts you publish. Never dismiss these, however good or bad, and be seen to always solve problems where needed. Remember, you are in a public forum.
Good for SEO
SEO isn't just about your website and what other websites are saying about you. The search engines are moving all the more nearer to the social media networks as an indicator, when it comes to ranking sites. Companies that are regularly posting and engaging customers are displaying consistency, brand loyalty, integrity and an authentic view of the company. These are all positive signals back to the search engines.
Better Customer Satisfaction
Not only can you resolve issues with customers who may post in your public arena, but you can show others how you've solved them too. It's amazing how a customer feels when they're listened to and replied to. So, customer satisfaction is a massive plus when it comes to social media marketing.
 Natural Traffic Increase
As you engage your customers you can also point them to areas on your website where they may get more detailed answers, to what they're looking for. This is a great benefit to your website as you can attract more visitors and thus, increase your site traffic.
Summary
There is no way round it, social media marketing is here to stay and can play a vital part in helping you grow your business. Your competitors will also be taking advantage of this, so let us know if we can help guide you along the way and the earlier you start, the better.
Helpful Links
Social Media wins top priority for marketing budgets next year